BARTÓK: Violin Concerto No. 2, BB 117
- intermission -
MAHLER: Symphony in No. 1 D major, "Titan"

Performed by: Kristóf Baráti violin
Concerto Budapest
Conductor: András Keller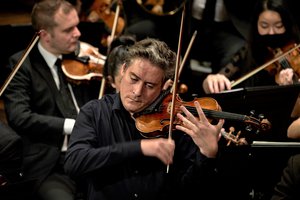 "Frantic love! And if it is not, what else as these / several sounds and changes, / this own killer ancient-element / death and resurrection." These lines mark the start of Zoltán Jékely's poem While Listening to Bartók's Second Violin Concerto, and if we perhaps cannot completely identify this concerto as the 'wild male wonder' our fascination with it is certainly something we have in common with that of the abovementioned poet. Of course, during Bartók's life the composition, written with violinist Zoltán Székely in mind and dedicated to him, was not numbered: this was simply the Violin Concerto right up until the second half of the 1950s when his earlier concerto composed for Stefi Geyer, who did not reciprocate the love the composer felt for the artist, became known. Whereas the second violin concerto with solo by Kristóf Baráti took half a decade to reach a Budapest audience after its premiere in Amsterdam in 1939, the second work of this season opening concert under the baton of András Keller, Gustav Mahler's Symphony No. 1, was actually given its world debut in Budapest. The latter fact is a matter of pride for Hungarian music despite the poor reception the work, later given the sobriquet 'Titan', received in the capital in November 1889.