TCHAIKOVSKY: Piano Concerto No 1 in B-flat minor, op. 23
- intermission -
BEETHOVEN: Symphony No. 9 in D minor, op. 125

Mikhail Pletnev piano, Klára Kolonits soprano, Lucia Megyesi Schwartz alto, Bernhard Berchtold tenor, Miklós Sebestyén bass baritone
Kodály Choir Debrecen (chief choir director: Zoltán Kocsis-Holper), Concerto Budapest
Conductor: András Keller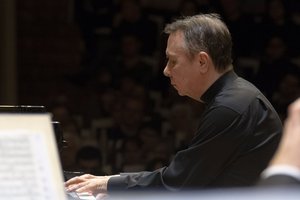 All those invited on a pre-Christmas spiritual-musical journey by Concerto Budapest and their music director András Keller will travel from darkness to light, from drama to joyous celebration. The fact is, both Tchaikovsky's most famous piano concerto (and one of the greatest in music history) and Beethoven's final symphony are simply sublime music, and in both we come across the concept of the brotherhood of peoples. Mikhail Pletnev, one of the most important pianists-conductors of our age, an experienced disciple of Russian music, along with superb vocalists from the Hungarian opera scene, play their part in this glittering celebration.
There are many common points of reference in the two masterpieces performed at the Concerto Budapest concert: close friends of Beethoven, who followed the gestation of the Ninth, were left puzzled, and for example his student, Czerny, openly criticized the use of the choir and singers in the composition, while as regards Tchaikovsky's piano concerto, Nikolai Rubinstein, to whom the work was originally dedicated and who was a friend of the composer, rejected it saying "the banalities have to be removed from it, and a few unplayable parts must be made playable". Neither critic proved correct: in the end, both works were performed in the form conceptualized by the stubborn composers and, of course, proved to be massive, and continued, successes. Beethoven's symphony starts out from void, from chaos, and attains the ethereal heights of Schiller's Ode to Joy, while Tchaikovsky's piano concerto progresses from dramatic hammer blows to the celebratory dance music of the finale, in which analysts reckon the Russian composer worked up Ukrainian folk music motifs. What is this if not the expression of the brotherhood of peoples? Meanwhile, the message of the Beethoven music is made abundantly clear: "All people become brothers". There could be no more noble wish for this festival of love.