Courtyard of Pest County Hall
Beethoven: Symphony No. 4 in B major, op. 60
Beethoven: Symphony No. 5 in C minor "of Destiny", op. 67
Concerto Budapest
Conductor: András Keller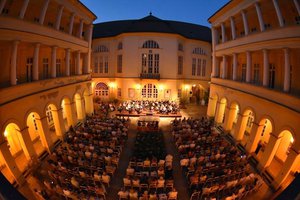 As Schumann warns us " Do not illustrate [Beethoven's] genius with the Ninth Symphony alone, no matter how great its audacity and scope, never uttered in any tongue. You can do as much with his First Symphony, or with the Greek-like slender one in B-flat major", as we are inclined to focus only on his odd-numbered and named symphonies, even though his less frequently performed compositions also deserve a closer look. Beethoven wrote his Symphony No. 4 simultaneously with his Symphony of Destiny at the country estate Prince Lichnowsky, and even though it is pervaded by some Haydnesque buoyancy similarly to his first two compositions in this genre, the tempestuous tone of Symphony No. 5 also appears in it on occasion. The concert offers us the possibility to compare the two symphonies, which come before us not as opposites but much rather as complementaries. The opening theme of Symphony in C minor has become an iconic motive not only of Beethoven's music itself but of classical music in general, which – as the composer's first biographer described – is "fate knocking at the door". Although Beethoven gave neither a title nor a programme to his work, these ominous four notes are often connected also to his gradual loss of hearing. However, it wasn't only this feature that made the symphony so immensely well-known but also its compositional novelty, as this is the first work in music history with the idea of a leitmotif, a theme which keeps recurring in each movement, similarly to inevitable destiny.
Place reservation requires registration; seats can be taken in the order of arrival. Venue: Courtyard of Pest County Hall (1052 Budapest, Városház utca 7.)
Rain plan for outdoor concerts: in poor weather, the orchestra will notify the audience of the relocation to the indoors venue and posts an announcement on its homepage www.concertobudapest.hu. Indoors venue: Uránia National Film Theatre at 8.30 pm (30 minutes later than originally planned).