Courtyard of Pest County Hall
Beethoven: Symphony No 1 in C major, op. 21
Beethoven: Symphony No. 6 in F major "Pastoral", op. 68
Concerto Budapest
Conductor: András Keller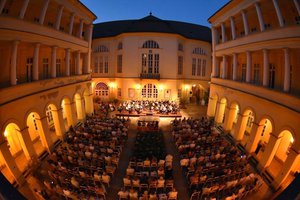 It was in 1800 when the young Beethoven presented his Symphony No 1 confidently and to great acclaim in the Viennese Burgtheater. He was now publically recognised not only as a piano virtuoso but also as the greatest living representative of the Classical Period. He can't have suspected at the time that his symphonic oeuvre consisting of 9 compositions would become the sometimes depressing benchmark for all future composers, and many would virtually venerate him for his great accomplishments in this genre. In Symphony No 1, Haydn and Mozart's influence can still be perceived, but at the same time, we can also discover Beethoven's own unmistakable tone in it.
As opposed to many of his other compositions, the title "Pastoral" was given to his Symphony No. 6, just like the programmatic titles to all five movements. In fact, he even got a brief description published for the premiere in 1808, in which he stated that the Pastoral Symphony "is more an expression of feeling than painting." Although the symphony has no storyline, it depicts rural life, which was held in high regard by the composer: arrival in the countryside, the brook, the merry gathering of the country folk and finally the storm, an essential element of music inspired by nature.
Place reservation requires registration; seats can be taken in the order of arrival. Venue: Courtyard of Pest County Hall (1052 Budapest, Városház utca 7.)
Rain plan for outdoor concerts: in poor weather, the orchestra will notify the audience of the relocation to the indoors venue and posts an announcement on its homepage www.concertobudapest.hu. Indoors venue: Uránia National Film Theatre at 8.30 pm (30 minutes later than originally planned).