Buy ticket
Solti Hall
Concert of Ádám Szokolay and Ádám Balogh, winners of the Béla Bartók World Competition
Mozart: Sonata for two pianos in D major, K. 448
Mozart: Sonata for piano, two hands in F-major, K. 497
Performers: Ádám Szokolay (piano), Ádám Balogh (piano)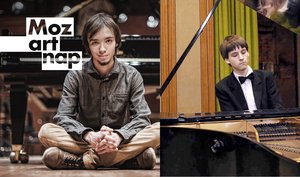 Wolfgang Amadeus Mozart: Sonata for Two Pianos in D major, K 448
A letter from Mozart to his father reporting on the concert at the home of the Auernhammer family is dated November 1781. On this occasion, he played his sonata for two pianos written specifically for the occasion in the company of Josepha Barbara Auernhammer. The recital was a great success. In 1784, he played the very same piece in the presence of Paisiello, with Barbara Ployer. Miss Auernhammer (1758-1820), who we can suspect was in love with Mozart, although he did not return the affection, was not only a fine pianist but she composed, too. She wrote a variation series for one of the Magic Flute themes (entry of Papageno – Der Vogelfänger bin ich ja), and the piano composition also appeared in printed form.
Wolfgang Amadeus Mozart: Four-Hand Sonata in F major, K 497
"Mozart wrote a total of six piano sonatas for four hands: the first was composed in London when he was nine, and the last in 1787 in Vienna, at the same time as Don Giovani. From a chronological and stylistic point of view, the second and third works (D major, K 381 and B-flat major, K 358) as well as the last two sonatas (F major, K 497 and C major, K 521) belong together: the former date from the early 1770s in Salzburg, and the latter from 1786/87 in Vienna. Mozart composed the early works for himself and his sister, for their appearances together and for home concerts," writes Katalin Komlós. Mozart entered the Four-Hand Sonata in F majorinto his own works catalogue in August 1786. Mozart's symphonic style, as well as the world of operas and piano concertos, can be discerned in this extremely complex and frequently experimental new work.