Grand Hall
Mozart: Andante in C major for flute, K. 315
Performer: Orsolya Kaczander flute
Mozart: Piano Concerto No. 15 in B-flat, K. 450
Performer: Dezső Ránki piano
Mozart: D-major (Prague) symphony, K. 504
Concerto Budapest
Conductor: András Keller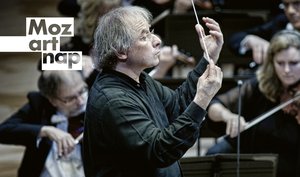 Wolfgang Amadeus Mozart: Andante in C major, K 315
The date (1778) and city (Mannheim) appended to the manuscript score of the composition point indisputably to the fact that the work belongs among the series written by Mozart at the request of Ferdinand Dejean. It is possible that Mozart considered it an alternative slow movement, perhaps because Dejean was dissatisfied with the Adagio of the Flute Concerto in G major (K 313) with identical orchestration. There again, it cannot be ruled out that he wrote it for a third flute concerto that in the end was never completed.
Wolfgang Amadeus Mozart: Piano Concerto in B-flat major, K 450
"Perfect balance in form, pierced, finely worked instrumentalization, a cavalcade of witty ideas, a bounteous cascade of brilliant piano passages delighting heart and soul, sophistication, taste, and together with this some sort of very natural, spontaneous realism – this is the world of the Mozartian piano concerto, kept alive by the final glow of the disappearing golden age of music," writes Judit Péteri, adding: "One of the most typical expressions of this shining ideal is the No. 450 Piano Concerto in B-flat major, which the composer inserted into his autograph works catalogue with the date 15 March 1784." We know from Mozart himself that the work was a huge success, hardly surprising given that this composition occupies a leading position even in the totally unique piano concerto series of the maestro. The piano part is extremely complex and demanding (perhaps it ranks as one of the most difficult of Mozart's concertos), while the wind parts specified for the instrumentalization bring new kinds of tonalities to the genre.
Wolfgang Amadeus Mozart: Symphony in D major 'Prague', K 504
According to the evidence of his own works catalogue, Mozart finalized the composition of the Prague symphony on 6 December 1786, and its première took place in Prague at a composer's recital on 19 January 1787. On hearing of the huge success Figaro enjoyed there, Mozart visited the city, thus we can suspect that the Figaro allusions appearing in the work were deliberate references (beyond the almost regular, unconscious sequences in works following on from one another). According to a few researchers, in similar symphonies around this time the location too may be the explanation for the unusual three-movement structure: perhaps the composer was trying to comply with symphony conventions in Prague that were believed to be more conservative.