All-day music festival in BMC by Concerto Budapest
Programme director: András Keller, music director and chief conductor of Concerto Budapest
THE VIOLIN CHANNEL will LIVESTREAM the event.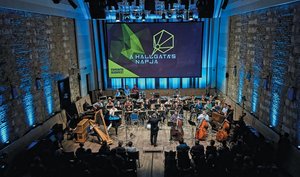 CLICK HERE TO WATCH LIVESTREAM OF THE DAY OF LISTENING.
Understanding, wonderment, profundity, discoveries and rediscoveries: this is what the Day of Listening promises the public and, indeed, the performers in what is the fourth occasion the festival has been arranged, this year on Sunday 10 November 2019. It is a tradition for music programmes on the Day of Listening to be staged in several venues at the same time, during which visitors meet András Keller, Zoltán Rácz and artists of Concerto Budapest as well as superlative soloists and chamber musicians. The one-day music event by Concerto Budapest and Budapest Music Center is designed to focus attention primarily on contemporary music and the creative knock-on influences arising between masterpieces of different ages. More than 40 works, including six world premières and five premièresin Hungary, are squeezed into 13 concerts on just a single day. The programme runs from works by Vivaldi through Beethoven via legendary contemporary artists all the way to the youngest composer generation.
Watch the teaser video of The Day of Listening
To listen and to understand: in the course of the world premières, the public can appreciate the variation for orchestra of István Láng's String Quartet No. 4, The Third Vertebrae, a workfor six basses by Péter Pál Józsa who passed away last year, Zoltán Jeney's string quartet Flowing-time, a new work by Gábor Csalog entitled Five Pieces of Funeral Music, László Vidovszky's Film Break– In memoriam Tóth János, as well as the composition 6:3 by the grouping of young composers who all graduated from the Liszt Academy in the past few years. Fans of Baroque music have creations from Vivaldi and Händel, Beethoven represents the great classics, while from among composers of the first half of the 20th century, visitors can pick from works by Ysaÿe and Richard Strauss. The festival's five premières in Hungary parade contemporary music from the international arena with works by Steve Reich, Robert Bachmann, Caroline Shaw and Iris Szeghy. Artists of the orchestra evoke the atmosphere of the Arcus Temporum festival in Pannonhalma with two works, and there are also presentations of the hugely successful pieces Rain Spell by Takemitsu and Lonely Child by Claude Vivier. The festival concludes with the music of the grand master of pop, Elvis, care of Gábor Homoky and Old Sounds.
Click the image to download programme calendar.
Programme:
CONCERT HALL
11:00-12:00 CET (Local)
10:00-11:00 GMT
Beethoven: The Consecration of the House, overture, Op. 124
István Láng: String Quartet No. 4 – arrangement for string orchestra – world première
László Sáry: Tranquillity
Louis Andriessen: The Nine Symphonies of Beethoven
Concerto Budapest
Conductor: András Keller, Zoltán Rácz
13:15-14:15 CET (Local)
12:15-13:15 GMT
Stepan Rostomyan: Symphony No. 3
György Ligeti: Bagatelles
Featuring: Orsolya Kaczander - flute, Béla Horváth - oboe, Csaba Klenyán - clarinet, Zsófia Stefán - bassoon, János Benyus - horn
Erwin Schulhoff: Piano Concerto, Op. 43
Featuring: József Balog - piano, Concerto Budapest
Conductor: Zoltán Rácz
15:30-16:30 CET (Local)
14:30-15:30 GMT
Péter Tornyai: For the Public
Claude Vivier: Lonely Child
Featuring: Eszter Zemlényi - soprano
Steve Reich: Pulse – Hungary première
Zoltán Jeney: Agony
Featuring: Concerto Budapest
Conductor: András Keller, Zoltán Rácz
18:00-19:00 CET (Local)
17:00-18:00 GMT
Robert Bachmann: Rotation 90° N – Hungary première
Richard Strauss: Divertimento after Couperin, Op. 86
Featuring: Concerto Budapest
Conductor: András Keller
Péter Tornyai - Balázs Horváth - Máté Balogh - Bánk Sáry - Marcell Dargay - Kornél Fekete-Kovács - Mátyás Wettl - Rezső Ott - Ákos Zarándy: 6:3 - world première
Featuring: Concerto Budapest
Conductor: András Keller, Zoltán Rácz
20:00-21:30 CET (Local)
19:00-20:30 GMT
Giya Kancheli: Nach dem Weinem
Featuring: László Fenyő - cello
László Vidovszky: Film Break – In memoriam Tóth János – world première
Gábor Csalog: Five Pieces of Funeral Music – world première
Featuring: Krisztián Andor - piano, Zsanett Szatzker - accordion, Concerto Budapest
Schubert: "Death and the Maiden" String Quartet No.14 in D minor, 1st movement / Keller Quartet
Schubert: String Quintet in C major, op. 163, 2nd movement
Kurtág pieces
Beethoven: String Quartet No.16 in F major, op. 135, 3rd movement
Conductor: András Keller
-------------------------------------------
OPUS JAZZ CLUB
12:15-13:00 CET (Local)
11:15-12:00 GMT
Vivaldi: Violin Concerto in D major, RV 212
Featuring: András Keller - violin
Vivaldi: Bassoon Concerto in G minor, RV 495
Featuring: Zsófia Stefán - bassoon
Händel: "Amabile Belta" Concerto for Flute and English Horn
Featuring: Orsolya Kaczander - flute, Dániel Ella – English horn
14:30-15:15 CET (Local)
13:30-14:15 GMT
Gyula Bánkövi: Delaisement
Featuring: Orsolya Kaczander - flute
George Crumb: Black Angels
Featuring: Kruppa Quartet (Bálint Kruppa, Éva Osztrosits - violin, András Kurgyis - viola, Barnabás Baranyai - cello)
Thomas Adès: Blanca Variations
Featuring: Mihály Berecz - piano
Gyula Bánkövi: White Angels
Featuring: Kruppa Quartet
16:45-17:45 CET (Local)
15:45-16:45 GMT
Toru Takemitsu: Rain Spell
Featuring: Orsolya Kaczander - flute, Csaba Klenyán - clarinet, Deborah Sipkay - harp, Boglárka Fábry - vibraphone, Emese Mali - piano
Sofia Gubaidulina: Garden of Joy and Sorrow
Featuring: Orsolya Kaczander - flute, Gábor Homoky - viola, Deborah Sipkay - harp
Zoltán Jeney: Flowing-time – world première
Featuring: Classicus Quartet (József Rácz, Réka Baksai - violin, Péter Tornyai - viola, Tamás Zétényi - cello)
19:00-20:00 CET (Local)
18:00-19:00 GMT
Beethoven: Sonata for Violin and Piano in G major, Op. 96
Featuring: Gábor Csalog - piano, András Keller - violin
Alfred Schnittke: Piano Quintet
Featuring: Gábor Csalog - piano and Keller Quartet
21.30-22:30 CET (Local)
20:30-21:30 GMT
Hommage à Elvis Presley
Gábor Homoky & Old Sounds (Ernő Bangó, Kálmán Dráfi, Oszkár Németh, Jenő Varga, Imre Sárközi)
-------------------------------------------
LIBRARY
14.30-15:15 CET (Local)
13:30-14:14 GMT
Iris Szeghy: Aria – Hungary première
Featuring: Miranda Liu, Kakutani Satoko - violin, Tünde Varasdy - viola, Tamás Migróczi - cello
Iris Szeghy: Canticum – Hungary première
Featuring: Zsanett Szatzker - accordion
Ákos Zarándy: Angry Birds
Featuring: Csaba Klenyán - clarinet, Ákos Pápai – bass clarinet, Ramóna Tóth - bassoon
Graziane Finzi: Thème and Variations
Featuring: László Fenyő - cello
Katalin Pócs: Etudes
Featuring: Csaba Klenyán - clarinet
16.45-17:30 CET (Local)
15:45-16:30 GMT
Péter Pál Józsa: The Third Vertebrae – world première
Featuring: György Schweigert, Tibor Tabányi, Gyula Lázár, Dezső Csoport, Zoltán Pető, László Illés - bass
Kagel: Piano Trio No. 1
Featuring: Mihály Berecz - piano, Bálint Kruppa - violin, Barnabás Baranyai - cello
19.00-20:00 CET (Local)
18:00-19:00 GMT
Ysaÿe: Solo Sonata No. 2
Featuring: Miranda Liu - violin
Caroline Shaw: Entr'acte – Hungary première
Featuring: Lisa Romain, Réka Baksai - violin, Adrienn Barát - viola, Eszter Karasszon - cello
Levente Gyöngyösi: Sonata
Featuring: Gábor Devecsai - trumpet, Ákos Takács - cello, Emese Mali - piano
Máté Balogh: Si King Songs
Featuring: Anna Molnár - vocals, János Nevelő - percussion