Buy ticket
Solti Hall
Mozart: Flute Quartet in C major , K. 285/b
Performers: Orsoly Kaczandera (flute), András Keller (violin), GáborHomoky (viola), Ákos Takács (cello)
Mozart: String Quintet in G minor K.516
Performers: Keller Quartet, Máté Szűcs (viola)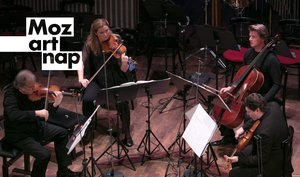 Wolfgang Amadeus Mozart: Flute Quartet in C major, K 171/285b
In autumn 1777, Mozart, accompanied by his mother, set off for Paris. They broke the journey for a lengthy stay in Mannheim, at the time one of the most progressive cities from the point of music. Here, Mozart developed important professional and personal relations; the city became the source of fundamental changes both in his life as a composer and emotionally. This is also where he met Ferdinand Dejean. The amateur musician commissioned several works from him, flute concertos and chamber pieces for flute. Mozart undertook to write three flute quartets, although it is far from certain that the third in the series, the Flute Quartet in C major, was actually written while in Mannheim, but it was finalized latest in 1778. The autograph score has not survived, there are only a few outlines, although these are on the sort of paper (or in the company of works) that suggest a later date. The second movement in variation form is identical to the sixth movement of the wind serenade known as the Gran Partita, and we can even assume that the variation movement of the Flute Quartet was written later.
Wolfgang Amadeus Mozart: String Quintet in G minor, K 516
Mozart (1756-1791) reached the peak of chamber music art with his quintets composed between 1787 and 1791, one of them being the G minor string quintet. The quintet induced numerous 'poetic interpretations', partly due to the G minor key bearing dramatic intonation. "Practically all Mozart books attempted to encapsulate, explain or resolve the content of the piece via the language of similes. They are about melancholy, depression, pessimism; the prayer of the lonely man, the Garden of Gethsemane, hopeless tragedy; and then, referring to the finale, about the overcoming of suffering and the victory of optimism. Let's leave the question open as to how much these images, similes and explanations contribute to an understanding of the piece..." writes Ernst Hess.