Boasting a rich history that spans over a century, today it is recognised for being one of the most progressive and versatile symphonic orchestras whose playing is characterised by the passion, energy, and the commitment of its musicians which they bring to every performance.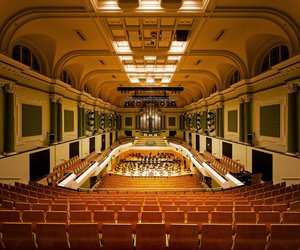 © National Concert Hall Dublin
The concert opens with Mozart's Symphony No. 40 before the orchestra is joined by the distinguished French pianist Pierre-Laurent Aimard for Bartók's soulful Third Piano Concerto (a piece written in the final years of his life).
To finish, András Keller leads the orchestra in Beethoven's epic Eroica Symphony. Regarded as one of Beethoven's most celebrated and revolutionary works due its scale, ambition and direction, it is often cited as heralding what was to come from Wagner, Mahler and others in the Romantic period. Indeed, it is regarded as one of the most significant pieces of music ever composed.
Mozart Symphony No. 40 in G minor, K550
Bartók Piano Concerto No. 3 BB127
Beethoven Symphony No. 3 in E flat major, Op. 55 Eroica
Presented by NCH